All About Okra
All About Okra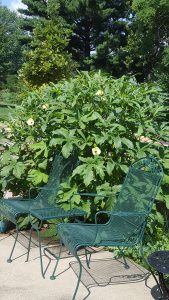 I'd never heard of nor ever seen okra until I met my husband. This year I saw some okra seeds and decided to plant them next to the patio. Vic grew it at our farm but it never got this tall. I wonder if I got hold of some Jack and the Beanstock seeds! When this stuff gets going you have to harvest it every day before it gets too big and tough. Growing it sure beats plunking down a bunch of cash at the store.
As I understand it, okra came from Ethiopia. In the U.S. it's considered a southern dish used in gumbo. During WW II when coffee was scarce, people used okra seeds as a substitute.
This vegetable offers healthful benefits. It's a great source of fiber and calcium. One cup furnishes 1.9 grams of protein with only 32 calories.
Okra helps your body use insulin well and helps improve the ratio of good cholesterol and bad cholesterol in your blood and lowers triglyceride levels. It also helps us retain energy. If you eat this veggie you're less likely to crave high-calorie junk food because it makes you feel full longer.
Some studies show asthmatics benefit from eating okra, although they don't know why yet. This humble veggie is rich in beta-carotene, Zanthin, and lutein which benefits your eyes.
Most people only eat okra in gumbo soup or fried, but it can also be eaten raw if harvested early. It can also be pickled, or grilled.
Okra can be frozen whole and enjoyed in winter. Pick it when it's about three inches long and put it in freezer bags raw. When you thaw it, cut off the ends.
Here's what it looks like when on the plant.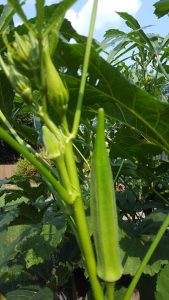 I found some yummy-looking recipes online at HTTPS://WWW.SOUTHERNLIVING.COM/FOOD/10-BEST-OKRA-RECIPES
I'll add a couple here:
Fried Okra Recipe
1 lb. fresh okra
2 cups buttermilk
1 cup self-rising cornmeal
1 cup self-rising flour
1 tsp. salt
1/4 tsp. ground red pepper
Vegetable oil
1/4 cup bacon drippings
Cut off and discard tip and stem ends from okra; cut okra into 1⁄2-inch-thick slices. Stir into buttermilk; cover and chill 45 minutes.
Combine cornmeal and next 3 ingredients in a bowl. Remove okra from buttermilk with a slotted spoon, and discard buttermilk. Dredge okra, in batches, in the cornmeal mixture.
Pour oil to a depth of 2 inches into a dutch oven or cast-iron skillet; add bacon drippings, and heat to 375°. Fry okra, in batches, 4 minutes or until golden; drain on paper towels.
Pecan Fried Okra
Makes 6 to 8 appetizer servings
1 cup pecans
1 1/2 cups all-purpose baking mix
1 teaspoon salt
1/2 teaspoon pepper
2 (10-oz.) packages frozen whole okra, thawed* (or fresh okra)
Peanut oil

Photo: Beth Dreiling; Styling: Buffy Hargett
How to Make It
Step 1
Place pecans in an even layer in a shallow pan.
Step 2
Bake at 350° for 10 minutes or until lightly toasted, stirring occasionally.
Step 3
Process pecans, baking mix, and next 2 ingredients in a food processor until pecans are finely ground. Place pecan mixture in a large bowl. Add okra, tossing to coat. Gently press pecan mixture into okra.
Step 4
Pour oil to a depth of 2 inches into a Dutch oven or cast-iron skillet; heat to 350°. Fry okra, in batches, turning once, 5 to 6 minutes or until golden; drain on paper towels.
Step 5
*1 (16-oz.) package frozen cut okra, thawed, may be substituted.
Step 6
Note: For testing purposes only, we used Bisquick Original All-Purpose Baking Mix.
How are you going to try this veggie?
My titles are available on Amazon.com here.
God's Little Miracle Book is now available in audio at https://itunes.apple.com/us/artist/sally-jadlow/1303687606 for iTunes and at Amazon at https://www.amazon.com/-/e/B007F5H0H4