A Truly Weird Place
A Truly Weird Place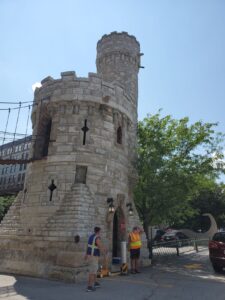 St. Louis is known for its famous arch, but there is another place that came highly recommended–the City Museum. It's not for everyone. If you like slides that send you who knows where, an eclectic conglomeration of aquariums, bridges, castles, vaults, secret passages, playgrounds, ball pits, a circus and a train topped by a rooftop school bus and a Ferris wheel, come on in.
Artists repurposed pieces of old cities to decorate this 10-story, 600,000 square-foot warehouse of the International Shoe Company. It's the brainchild of artist Bob Cassilly, a classically trained sculptor which opened in 1997.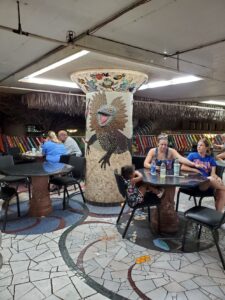 The food court sports some unique art on the support columns.
Further in, you pass an enormous vault.
Deeper into the building you encounter stairs–floors and floors of winding stairs. This place is not for those who need elevators!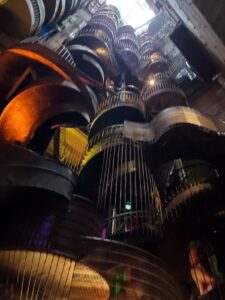 At one point, a semi-hysterical woman met me coming down the up staircase screaming repeatedly, "I can't do this! Excuse me! I can't do this!" I must admit, I only lasted another flight on the stairs before I gave up and turned back. The heat of the day, the dark passages, the throngs of screaming children, and uneven floor with grates looking down to the next level discouraged me from farther exploration.
One more point of interest: If you need multi-colored shoelaces made on and antique machine, you can get them here. I can't show you a picture of the machine because it's a movie and I can't figure out how to get it to run on this blog.
With all that said, it was truly a memorable experience–just not one I'll choose to repeat.
Have you run across a place you'll remember but will not choose to return?
My books are available at https://www.amazon.com/-/e/B007F5H0H4