A Timely Suggestion
A Timely Suggestion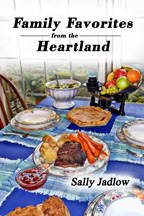 Have you even gone to the store to buy certain items for a recipe only to get home to find you forgot one key ingredient? For me, it takes all the fun out of cooking.
I don't like to make a list before I go, or print off a copy of the recipe. I'm certainly not going to carry a cookbook with me to the store. But now there is a solution.
Download a cookbook in an e-reader version on you iPad or Smartphone. If you don't have a Kindle it's no problem. Kindle offers free download apps for your electronic devices.
That's one of the reasons I created an e-reader version of my new cookbook, as well as a paperback copy Family Favorites from the Heartland: Recipes Sure to Please. That way, I'll always have my favorite recipes in my pocket. Try it. You might like it!