A Prequel of "The Late Sooner"
A Prequel of "The Late Sooner"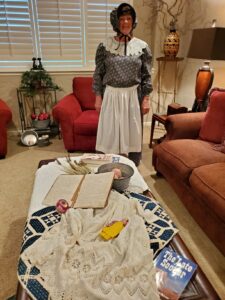 This past week I had the privilege of visiting a book club as Lucy Deering, one of my characters in The Late Sooner. As an author who spends a long stretches of time in solitary, it's a joy to get to meet readers.
Lucy was my great-grandmother who went into the Oklahoma Territory with her husband, Sanford, in 1889 in the first land run. I spent over a year researching this project online poring over hand-written documents and letters at the Guthrie Historical Society and Museum. I used my great-grandfather's one-line-a-day diary as the backbone for the story. Handed down family stories helped to put meat on the bones.
For this particular evening I used information from the diary to create a monologue about how she and Sanford met and married that is not covered in the book.
I'm available for gatherings of all kinds. If interested, reply to me on this blog at the bottom of the page.
My books are available at https://www.amazon.com/-/e/B007F5H0H4