A Different Birthday Cake
A Different Birthday Cake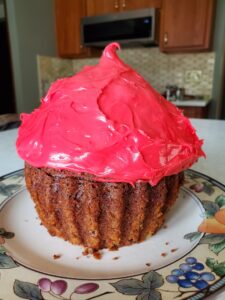 Two of my granddaughters are born on the same date, two years apart. This year I decided to bake them a huge cupcake for their birthday.
Rather than make my traditional chocolate cake I decided to make a carrot cake instead. Rather than grate the carrots, I put them in my new Insta Ace blender (Pictured here.) Wow! In only two pulses I had two cups of chopped carrots.
I pulled out a can of pineapple. The recipe called for chunks. I didn't have chunks, so into the blender they went. Bam! Instant chunks.
Rather than chop my cup of pecans, I let the blender do it. I think I kinda like this new machine!
Here's the recipe if you're interested.
Carrot Cake
Ingredients for cake:
2 cups sugar
¾ cup olive oil
3 eggs
1 teaspoon vanilla
¾ cup milk
2 cups carrots, raw, grated
1 cup nuts
1 (15 ounce) can pineapple chunks
2 cups flour
2 teaspoons baking soda
2 teaspoons cinnamon
1 ½ teaspoons salt
Icing:
1 cup pecans
½ cup butter
1 (8 ounce) package cream cheese
1 teaspoon vanilla extract
4 cups powdered sugar
Directions:
Preheat oven to 350 degrees. Grease a 9×13 inch baking pan. Set aside. (In my case I used a special large cupcake pan.)
In a large bowl, mix together sugar, oil, eggs, vanilla, and buttermilk. Stir in carrots, coconut, vanilla, and pineapple. In a separate bowl, combine flour, baking soda, cinnamon, and salt; gently stir into carrot mixture. Stir in chopped nuts. Spread batter into prepared pan.
Bake for 55 minutes or until toothpick inserted into cake comes out clean. Remove from oven, and set aside to cool. For the pan I used, I baked it about 40 minutes.
In a medium mixing bowl, combine butter or margarine, cream cheese, vanilla, and confectioners sugar. Blend until creamy. Frost cake while still in the pan. I let the cake cool completely, then removed it from the pan and iced it. Hint: if you're going to drive somewhere with the big cupcake, you might want to take it in two pieces and ice it at the destination!
My books are available at: https://www.amazon.com/-/e/B007F5H0H4