Strawberry Ice Cream
Strawberry Ice Cream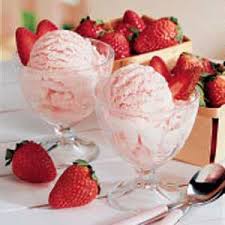 Strawberry Ice Cream Recipe
Makes about 1 quart
Ingredients
1 pound strawberries* (about 4 cups – previously frozen strawberries can be used if thawed)
2/3 cup sugar
1 teaspoon fresh lemon juice
1/8 teaspoon salt
2 cups cream
Natural red food dye – Optional. I didn't use any in the ice cream pictured.
2 tablespoons rum or vanilla extract made with vodka or rum. This keeps the ice cream from becoming as hard as a rock.
Instructions
1. Trim tops off the strawberries and cut them in half. Place them in a bowl along with lemon juice, salt and sugar, then mash with a potato masher.
2. Pour strawberry mixture into a blender with the cream and rum if using. Puree until smooth.
3. Cover and chill for at least four hours. I usually make mine a day in advance and chill overnight.
4. Pour mixture in an ice cream maker and churn according to manufacturer's instructions. Enjoy right away as a soft-serve, or transfer to a container and place in the freezer until firm.
*You can choose any fruit, I just chose strawberries.
To see my books visit here.
To view my other blog visit here.