A Word of Encouragement
A Word of Encouragement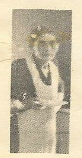 As a writer, do you ever despair, wondering if anyone will ever read your work?
You never know who or when those words you so diligently planned, typed and edited will ever be seen.
This past month Neoma Foreman a writing friend of mine who lives in Walker, MO, sent me a page from a 1950 cookbook from her town's Baptist Church. Neoma's daughter-in-law recently bought the book in an auction and gave it to her.
Although I wondered why she sent this page to me, I was delighted to find the page contained a picture of my Presbyterian grandmother, Glessner Edmiston, donned in her over-the-head apron standing in her kitchen. The page contained some of Grandma's 1950s recipes.
The most unusual one, a recipe for Vinegar Pie. I've not had the nerve to try it yet, but I intend to.
Grandmother often sent poems to the Kansas City Star in hopes of being published. To my knowledge, they published only one. When she submitted those recipes, I'm sure she didn't expect people to read it sixty-eight years later.
Here's to you, Grandmother:
Vinegar Pie
1 C. sugar
3 heaping tablespoons cornstarch
1/4 C. vinegar
1 1/2 C. water
1 egg and a little butter
Mix all together and pour into unbaked pie shell and bake in medium oven.
God's Little Miracle Book is now available in audio at https://itunes.apple.com/us/artist/sally-jadlow/1303687606 for iTunes and at Amazon at https://www.amazon.com/-/e/B007F5H0H4