The Best of Times/The Worst of Times
The Best of Times/The Worst of Times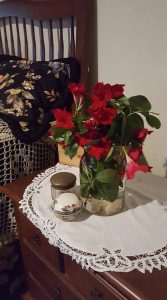 The temperature is dropping–time to take the plants off the patio and put them to bed in the basement. Darn!
My son, Josh, wheeled the largest ones from the patio to the garage on a dolly just before the rain began. I've spent the afternoon pruning the tallest plants so they will fit through the basement door.
Even though the trees are beautiful this year, fall always makes me sad. I guess it's because winter isn't far away.
I looked over the clippings on the garage floor and sighed. In an attempt to lighten my mood, I fished out a few mandivilla stems, put them in a vase, and took them upstairs.
A neighborhood couple gave me this plant after my husband, Vic, died in April. It's been a source of joy all summer. Hopefully, I can preserve it through the winter so it can bring joy again in spring.
October
Fall temperatures signal dormancy,
empty gardens, and approaching winter winds.
Soon, trees with be bare,
the landscape drab and gray.
A time for pulling inward to rest
and renew in the darkness,
creating a longing for warm spring rains,
when earth can come alive again
in the radiance of renewal.
My titles are available on Amazon.com here.
God's Little Miracle Book is now available in audio at https://itunes.apple.com/us/artist/sally-jadlow/1303687606 for iTunes and at Amazon at https://www.amazon.com/-/e/B007F5H0H4