Inflammatory Words
Inflammatory Words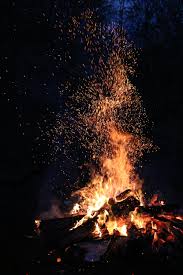 From what I knew of her, she had a quick tongue. Not satisfied unless she had the last word. Always on the defense. After several years of marriage, her husband grew weary and left.
As she recounted the latest battle to me, I saw a picture in my mind's eye. It was a woman standing in front of a bonfire. Beside her stood a pile of wood. Every time she spewed another volley of words, she threw another log on the fire.
What a sad thing we don't order our lives according to God's word. In Proverbs 15:1 it says: A soft answer turneth away wrath: but grievous words stir up anger (KJV). The New American Standard Bible reads: A gentle answer turns away wrath, but a harsh word stirs up anger.
How different her life could be if she let Jesus tame her tongue.
To see my books visit http://www.amazon.com/-/e/B007F5H0H4
God's Little Miracle Book is now available in audio at https://itunes.apple.com/us/artist/sally-jadlow/1303687606 for iTunes and at Amazon at https://www.amazon.com/-/e/B007F5H0H4