A Kansan in New York
A Kansan in New York
Recently my husband, Vic and son, Josh along with Vic's sister, Karen and her husband, Doug,  visited New York. The rest of our party had never been there before. The city now contains over eight and a half million people.
Our sight-seeing bus ride which was to take an hour around lower Manhattan lasted two and a half hours. Streets jammed with stalled traffic. Sidewalks were almost impassable. Fire truck and ambulance sirens competed with the middle-eastern songs blaring from the sidewalk hot dog and pretzel stands. Each section of the city had its own unique aroma from the rapidly growing Chinese area to the Italian. Tall buildings blocked the warm sunshine. Meanwhile, the bus tour guide kept up a steady stream of information about passing points of interest and made lame jokes about our President.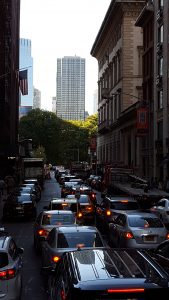 The next day Doug wanted to see Central Park and the Empire State Building so we chose to walk because it was faster. After breakfast at a diner and a fast-paced jaunt through crowded sidewalks under scaffolding in almost every block, we arrived at Columbus Circle. Passing the horses and carriages on the south side of Central Park, we entered at the south-east entrance.
We hadn't gone more than a half block when it hit me. It was as if we had entered another realm. People sauntered along the paved walkways. The raucous sounds of the city disappeared along with the exhaust fumes. A squirrel gathered nuts and ducks floated aimlessly on the pond near an arched stone bridge. A little Chinese man sat on a rock as he bowed a pleasant tune on one string strung on a croquet mallet.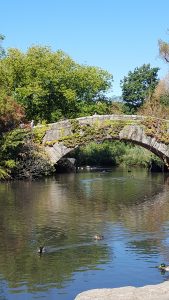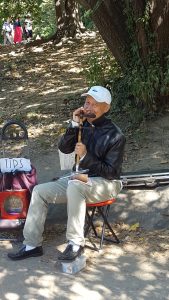 All too soon we had to make our way back into the jangling jumble of people in order to allow enough time to walk to the Empire State Building for a skyscraper scan of the city.
After standing in several lines and a trip up a few stories we stood in another line to buy a ticket to the top. For a mere $102 for two senior tickets, we got to stand in more lines and ride more elevators for the precious privilege of a top-of-the-tower view. That's a far cry from the quarter I paid to look from the same point sixty-five years ago. From there today, Central Park looked like a tiny island of green in the midst of a concrete jungle.
What eight-and-a half million people see in that place, I'll never understand. I'm with Dorothy. There's no place like home.