Zucchini Lasagna
Zucchini Lasagna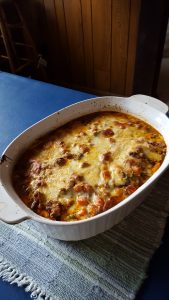 Once zucchini gets going it doesn't know how to stop. Here's a way to use about seven of them and lower carbs at the same time. This recipe freezes well for a quick dinner on a rushed day.
Lasagna with Zucchini
Ingredients
1 pound ground beef
1/2 cup chopped onion
1/2 cup chopped green bell pepper
1/4 cup finely chopped carrots
2 cloves garlic, minced
1 (15 ounce) can tomato sauce
1/2 teaspoon dried oregano
1/2 teaspoon dried basil
salt and pepper to taste
5 medium zucchini, sliced lengthwise into 1/4-inch thick strips.
1 cup cottage cheese
1 egg, beaten
3/4 cup shredded mozzarella cheese
1/4 cup grated Parmesan cheese
Directions
Preheat oven to 350 degrees F (175 degrees C). Lightly grease a medium baking dish.
In a skillet over medium heat, cook the ground beef until evenly brown. Drain juices. Mix the onion, green bell pepper, carrots, garlic, and tomato sauce into the skillet. Season with oregano, basil, salt, and pepper. Bring the mixture to a boil, reduce heat to low, and simmer 10 minutes, until vegetables are tender.
In the bottom of the prepared baking dish, layer 1/2 the zucchini strips. In a bowl, beat together the cottage cheese and egg, and spread over the zucchini. Scoop 1/2 the beef mixture over the cottage cheese and egg mixture, and sprinkle with 1/2 the mozzarella cheese. Layer with remaining zucchini, beef mixture, and mozzarella. Top with Parmesan cheese.
Bake 45 minutes in the preheated oven. Allow to sit 10 minutes before slicing to serve.
To see my books visit http://www.amazon.com/-/e/B007F5H0H4