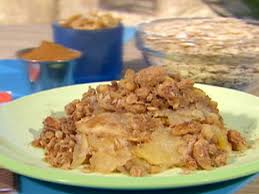 Soon it will be time to gather the fall apple crop. Here is one of our family favorites.
Apple Betty
Preheat oven 350*
Grease baking dish
Part 1
2 c. sliced apples ( I like Jonathan's best for cooking)
1 T. flour
1/3 c. brown sugar
1/8 t. salt
1/4 t. cinnamon
Put apples into greased baking dish. Mix other ingredients and sprinkle over apples
Part 2
1/2 c. flour
1/3 c. brown sugar
1/2 c. old fashioned rolled oats
1/8 t. soda
1/8 t. baking powder
1/4 c. butter
Combine dry ingredients. Cut in butter as for pastry. Spread over apples mixture from part 1.
Bake 350* for 40 min.
(Picture from foodnetwork.com)
To see my books visit http://www.amazon.com/-/e/B007F5H0H4