Life in 1950
Life in 1950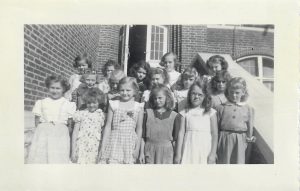 Third grade found me in Mrs. Everhart's class at Central Grade School. (I'm the first on the left in the middle row.) We skipped rope on the narrow sidewalks and played jacks at the bottom of this staircase at recess. At the end of sixth grade, this school became the junior high so I went to this school for nine years.
As I look over these dear faces, I see many are gone. Others, I wonder about their lives now almost 70 years later.
That was definitely a different era. What memories do you have of third grade?
To see my books visit http://www.amazon.com/-/e/B007F5H0H4