Copy Cat Panda Express Fried Rice
Copy Cat Panda Express Fried Rice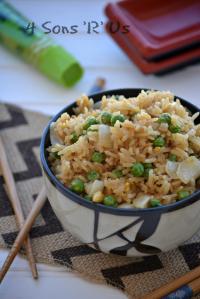 Ingredients
1. 2 cups cooked long grain rice
2. 2 eggs, beaten
3. 3 tbsp butter, divided
4. 1 cup frozen peas and carrots, slightly thawed
5. 1/4 cup roughly diced white onion
6. 2 tbsp soy sauce, or more to taste
7. 1/4 tsp sesame oil, or more to taste
8. 1/8 tsp freshly ground black pepper
9. 1/8 tsp salt, or more/less to taste
Instructions
1. Set the cooked rice aside- in a large bowl until needed.
2. Scramble the eggs with 1 tbsp of the butter in a wok on stove top. While the eggs cook use a spatula to break them up into pea sized pieces.
3. Transfer the chopped scrambled eggs into the bowl of cooked rice along with the thawed peas and carrots and diced white onion, stirring until everything's evenly incorporated.
4. Heat the remaining 2 tbsp of butter in the wok over medium heat. Add the rice mixture to the skillet. Give it a good toss to thoroughly coat and then add the soy sauce and sesame oil, again tossing until they're evenly incorporated. Saute the rice, stirring constantly, for 6-8 minutes– or until the onions have softened slightly and the veggies and rice are completely heated through and just slightly browned.
5. Remove the wok from heat and season the fried rice with salt and pepper, to taste.
6. Serve immediately as is or alongside your favorite Asian entrée.
To see my books visit http://www.amazon.com/-/e/B007F5H0H4
To see my other blog visit https://godslittlemiraclebook.wordpress.com/