Cornmeal Pancakes
Cornmeal Pancakes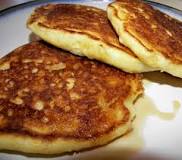 I got this recipe from my friend Pat whose grandmother made these often. They have become a family favorite around here too. Thanks, Pat!
NANNIE'S SPECIAL PANCAKES
(My grandmother's recipe from the 1930s – Patricia Plake Keeney)
Makes eight saucer sized pancakes
1 Cup Flour
1 Tablespoon Sugar
3 Tablespoons Coarsely Ground Corn Meal
1 Teaspoon Baking Powder
¼ Teaspoon Baking Soda
¼ Teaspoon Salt
1 Egg, beaten
1 Cup Buttermilk
2 Tablespoons Cooking Oil
2 drops Pure Vanilla Extract
½ Cup Broken Pecans (optional)
INSTRUCTIONS
Combine first six ingredients in a medium bowl – mix with a fork and set aside.
In a small bowl, beat the egg with a fork, add buttermilk, vanilla, and cooking oil
Add egg mixture, all at once, to flour mixture.
Stir with a large wooden spoon (that's what Grandma always used) until moistened.
(Batter should be lumpy.)
Lightly fold in Pecan pieces.
(Add additional buttermilk to thin the batter if needed, but batter should be thick.)
Spoon onto un-greased, stick-free griddle. If using a regular skillet lightly spray with cooking oil.
When bubbles appear on the surface of cakes (at about two minutes), flip them over.
Cook another minute or two and serve.
To see my books visit http://www.amazon.com/-/e/B007F5H0H4
To see my other blog visit https://godslittlemiraclebook.wordpress.com/