A Fruit Dessert
A Fruit Dessert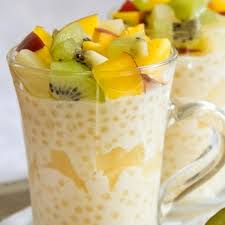 Fruit Tapioca
9 cups water
1 teaspoon salt
1 ½ cups baby pearl tapioca. (Let it soak in some of the water for at least a couple of hours so it will cook faster.
4 small boxes Jell-O
1 cup sugar
Fruit—as much or as little as you want.
Bring water and salt to a boil. Add tapioca. Cook until clear; keep stirring while it boils. Remove from heat and add Jell-O and sugar. Add fruit.
To see my books visit http://www.amazon.com/-/e/B007F5H0H4
To see my other blog visit https://godslittlemiraclebook.wordpress.com/