Sweet Potato Fries
Sweet Potato Fries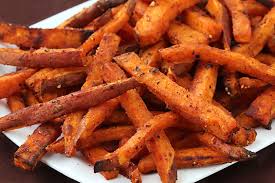 Sweet Potato Fries
These sweet potato fries are addictive. Healthy, too because they are cooked in the oven, not deep fried.
Ingredients:
2 sweet potatoes. peeled
1 tsp. paprika
1 tsp. cinnamon
salt
6 tbsp. extra virgin olive oil
Directions:
• Preheat the oven to 190 degrees,
• Wash and dry the sweet potato, peel, and chop into wedges.
• Add the cut sweet potatoes to a bowl with the rest of the ingredients. Toss everything together until the sweet potatoes are well coated.
• Place the sweet potatoes on a tray and cook for about 25-30 minutes.
• Serve hot!
To see my books visit here.
To view my other blog visit here.