Sampson at Sight & Sound
Sampson at Sight & Sound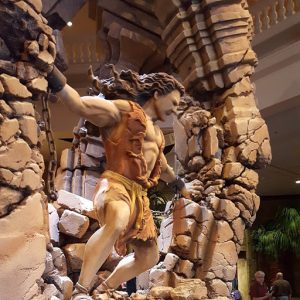 I recently had the opportunity to visit Sight & Sound Theatre in Branson, MO. This production company does a phenomenal job bringing this Biblical character to life. The stage production is out-of-this world.
I especially enjoyed some of the lines. When Sampson has lost his strength by having his hair cut and he's blinded by his enemies, a character says to him, "God's grace is like hair–it just keeps growing."
I'll not share more with you. I'll let you discover the experience for yourself. Check it out here. It will run until well into December. Don't miss it!
My titles are available on Amazon.com here.
God's Little Miracle Book is now available in audio at https://itunes.apple.com/us/artist/sally-jadlow/1303687606 for iTunes and at Amazon at https://www.amazon.com/-/e/B007F5H0H4