Red Velvet Cupcakes
Red Velvet Cupcakes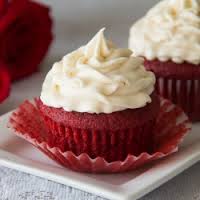 You'll need:
¾ c. Heavy whipping cream
¾ c. M&M's® Milk Chocolate candies
¾ c. M&M's® Red Velvet candies
Combine the ingredients in a 1 qt. heavy saucepan.
Heat at medium-high, stirring constantly until the M&M's® are melted.
Remove from the heat and allow to cool. Transfer to a bowl and refrigerate for one hour.
Moist Delicious Cupcakes
Prepare your cupcakes using your favorite cake mix, adding one package of instant pudding and following the directions on the box.
Preheat oven according to directions on the box. Line your cupcake tray with liners and fill ¾ of the way with cake mix.
Remove the ganache from the refrigerator and add 1 tbsp. to the middle of the cupcake.
Bake for 19-23 minutes. Cool and frost.
Easy Buttercream Frosting
½ c. solid vegetable shortening
½ stick unsalted butter, softened
1 teaspoon clear vanilla extract
3 ½ c. powdered sugar
1 ½ TBSP. milk
Cream the shortening, butter and vanilla together with electric mixer.
Slowly add powdered sugar. Add milk to achieve the consistency that you want.
Frost the cupcakes.
Look for the M&M's® Milk Chocolate and M&M's® Red Velvet in the food section in your local Walmart.
Check out my cookbook and other books here.