Quinoa Salad
Quinoa Salad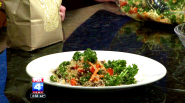 Here's an interesting salad that can be a meatless dinner.
Dressing:
¼ cup fresh lemon or lime juice
3 T. vegetable broth
½ cup olive oil
½ t. salt
pepper
2 t. chili powder
½ t. cumin
1 t. chia seeds or ground flaxseed to thicken
Mix all ingredients together in a jar and shake. Set aside while you make the salad.
Salad:
Take kale from the stems and break in pieces until you have 6 cups. Pour half of the dressing over the kale. Now massage the kale for 2-3 minutes to soften the kale leaves.
Then add 1 cup quinoa cooked in 2 cups vegetable broth.
2 cloves garlic, minced.
15 ounce black beans (canned)
½ cup grated carrot
½ cup red bell pepper
1 avocado
Toss together and add the other half of the dressing.