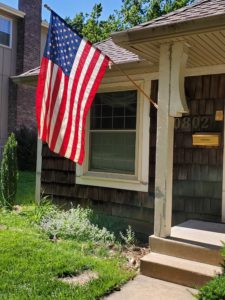 Twenty-one years ago our church installed a new flag pole. They asked Dan Quisenberry, pitcher for the Kansas City Royals, to write a poem for the occasion. Dan was my mentor and an excellent poet.
When asked, Dan turned to me and said, "I don't have time, but Sally can do it."
My heart leaped into my mouth. I had never written a commissioned poem before. Writing a poem in my journal that no one saw was entirely different thing all together.
I said, "Who? Me?"
Dan grinned. "Sure. You can do it."
After I prayed, I wrote:
Old Glory
Look to me and remember well
the days gone by and those who fell,
giving their lives for freedom's sake
knowing their sacrifice was no mistake.
Look to me and remember the present
pray for each and every resident
who lives in this great land of ours
that by God's grace we'll be empowered.
Look to me; remember those yet to come
who'll stand in our stead and march to the drum
of a land established for God's glory;
a place of freedom to share His story.
When we celebrate July 4th soon, may we remember those who are named in this poem and give God the glory.
My latest book, Joshua's Journey: One Boy's Victory Over Allergies is available here on Amazon.com. All my books are available in Kindle and paperback. The Miracle Books are also available in audible.