Oatmeal Carrot Muffins
Oatmeal Carrot Muffins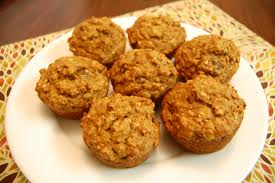 I saw this recipe on the internet the other day and decided to try it. YUM! Next time I might throw in some pecans. This muffin is very moist. Give it a whirl and tell me what you think.
Ingredients
• 1 cup flour
• 1 cup oats
• 1 cup white sugar
• 1 cup brown sugar
• 1/2 tsp salt
• 4 tsp baking powder
• 2 cup grated carrots
• 2 tbsp cinnamon
• 1 cup milk
• 1/4 cup veggie oil
• 2 large eggs
Steps
Preheat oven to 400°F.
Mix together dry ingredients: flour, oats, white sugar, brown sugar, salt, baking powder, grated carrots, cinnamon.
Now add the milk, vegetable oil, and eggs.
Spoon into greased muffin tins. Cook for 15 minutes until golden brown on top.
Let cool about 5-10 minutes and remove muffins to a cooling rack.