Homemade Ketchup
Homemade Ketchup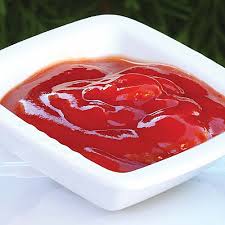 Although I've canned and created many things in the kitchen, I've never made my own ketchup. I ran across this recipe at mommypotamus.com. I think I'll try it.
Let me know what you think if you try this stuff.
Quick Homemade Ketchup
Ingredients:
o 12-14 ounces tomato paste (my favorite tomato paste comes in 7 oz jars)
o 1/3 cup honey or maple syrup (Grade B is best – it has more minerals than Grade A)
o 1/2 cup apple cider vinegar
o 2 tablespoons onion powder
o 1 teaspoon unrefined sea salt
o 1/4 scant teaspooon allspice
To Make:
1. Place all ingredients in a small pot/pan and whisk together.
2. Place on the stove and bring to a boil, then reduce heat and simmer until reduced to the consistency you prefer. Store in the fridge.
Shelf life: Many online recipes for homemade ketchup say they last in the fridge for 1-2 weeks.