Home Made Granola Bars
Home Made Granola Bars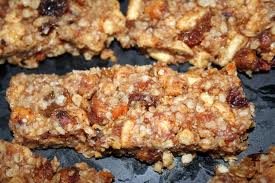 How to Make Homemade Granola Bars
Makes 8 bars
These are really yummy. I carry them for a quick snack.
Ingredients
1 1/2 cups old-fashioned oats
1 cup crispy rice cereal, puffed millet, high-fiber cereal mix (like Kashi Go Lean), crushed pretzel sticks, or any other crispy grain or cereal
1/2 cup chopped nuts, like walnuts, peanuts, almonds, or pecans
1/2 – 1 cup dried fruits like cranberries, raisins, or cherries
1/2 cup brown rice syrup
1 teaspoon vanilla extract
1/4 teaspoon salt
1/2 – 1 teaspoon spices, like cinnamon or pumpkin pie spice (optional)
3 tablespoons peanut butter or 1 tablespoon cocoa powder (optional for firmer bars)
Equipment
Large mixing bowl
Spatula
Measuring cups
8″x8″ baking pan
Parchment paper
Instructions
1. Prepare for Baking: Heat the oven to 325°F with a rack in the middle of the oven. Line the baking pan with parchment, leaving extra parchment to hang over the sides. Lightly coat with nonstick cooking spray or butter. If desired, toast the nuts and grains for 10-15 minutes until toasted and fragrant. For softer dried fruit pieces, soak the dried fruit in very hot water for 10 minutes and drain before using.
2. Mix the Dry Ingredients: Mix the oats, cereal, nuts, and dried fruit together in a mixing bowl.
3. Warm the Rice Syrup: Warm the rice syrup for 10-15 seconds in the microwave or in a small saucepan over medium heat. It should be just loose and liquidy enough to pour. Mix in the vanilla extract, salt, spices (if using), and peanut butter or cocoa powder (if using).
4. Stir the Rice Syrup into the Dry Ingredients: Pour the rice syrup over the dry ingredients. Use a spatula to scrape the last of the syrup. Stir the rice syrup into the dry ingredients until the ingredients are completely coated and start to stick together in clumps.
5. Press into the Pan: Pour the mixture into the prepared pan. Use wet or lightly oiled hands to firmly press the mixture into the pan.
6. Bake the Granola Bars: Bake the bars for 20-25 minutes for chewy granola bars or 25-30 minutes for crunchy bars. As soon as you remove the bars from the oven, press them again with the back of a lightly oiled spatula. (This will give you more compacted granola bars.)
7. Cool the Granola Bars: Let the bars cool completely in the pan. They will firm up as they cool. Once cooled, cut into 8 bars in the pan with a very sharp knife, then lift the bars by the flaps of parchment to remove from the pan. Store between layers of wax paper in an airtight container for up to two weeks. To make them easier to slip into back packs and lunch boxes, you can also wrap each bar individually in wax paper or plastic wrap.
Favorite Combinations:
• Pecan Cranberry Bars: 1 1/2 cups oats, 1 1/2 cups crispy rice cereal, 1/2 cup pecan pieces, 1 cup dried cranberries, 1 teaspoon pumpkin pie spice (Pictured above)
• Tropical Fruit Bars: 1 1/2 cup oats, 1 1/2 cups Kashi Go Lean cereal, 1/2 cup chopped macadamia nuts, 1 cup diced dried pineapple and mango pieces
• Cherry Almond Dark Chocolate Bars: 1 1/2 cup oats, 1 cup crispy rice cereal, 1 cup chopped almonds, 1 cup dried cherries, 1/2 cup chopped dark chocolate pieces, 1 teaspoon almond extract (in place of vanilla extract)
• Peanut Chocolate Bars: 1 1/2 cup oats, 1 1/2 cup crispy rice cereal, 1 cup chopped peanuts, 1/2 cup chopped dark chocolate or mini chocolate chips
• S'Mores Bars: 1 cup oats, 1 cup crispy rice cereal, 1 cup crushed graham cracker pieces, 1/2 cup dark chocolate pieces or mini chocolate chips, 1/2 cup mini marshmallows