Glazed Orange Coconut Cake
Glazed Orange Coconut Cake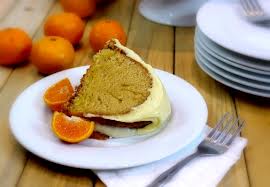 My husband handed me this recipe from a magazine. It made my mouth water so I tried it and took it to a picnic. One piece remained on the plate when we came home. Guess it was a hit.
Glazed Orange Coconut Cake
Cake:
2 ½ cups all-purpose flour
1 ½ cups granulated sugar
¾ cup finely shredded, unsweetened coconut
2 teaspoons baking powder
2 teaspoons baking soda
½ teaspoon salt
1 cup coconut milk
½ cup vegetable oil
2 eggs
1 teaspoon vanilla
1 cup fresh orange juice (4-5 oranges)
1 tablespoon finely grated orange rind
Orange glaze and garnish:
2 cups powdered sugar
¼ cup fresh orange juice (1 orange)
Toasted coconut chips (optional)
Preheat oven to 350 degrees. Grease and flour a Bundt pan.
Combine flour and next five ingredients (flour through salt).
In separate bowl, combine coconut milk, oil, eggs, vanilla, and orange juice and rind. Pour into dry ingredients and mix until smooth. Pour into prepared pan.
Bake 35 to 40 minutes, until a toothpick inserted in the center comes out clean. Let cool completely before removing from pan.
To prepare glaze, whisk together powdered sugar and orange juice. If there are little lumps, let glaze sit 30 minutes, until they dissolve. Pour glaze over completely cooled cake. Sprinkle coconut chips on top, if using. Serves 20.