Eggnog Pound Cake
Eggnog Pound Cake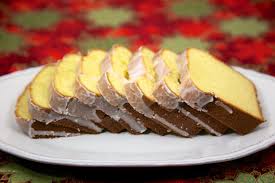 Here's a new use for eggnog. Yum!
3 cups flour
2 tablespoons baking powder
1/2 teaspoon cinnamon
1/2 teaspoon nutmeg
1/4 teaspoon salt
1 cup butter
2 cups sugar
4 eggs
1 teaspoon vanilla
1 1/4 cups eggnog
Optional Glaze:
1 cup powdered sugar
1-2 tablespoons eggnog
In small bowl, combine flour, baking powder, cinnamon, nutmeg, and salt. Set aside. In large mixing bowl, cream together butter and sugar until fluffy. Add eggs, one at a time, mixing well between each addition. Add vanilla. Alternately add flour ingredients with eggnog, mixing well between each. Pour into two greased and floured loaf pans. Bake 40-50 minutes until pick inserted in center comes out clean. Cool ten minutes before removing from pans. You may dust with powdered sugar or glaze with the following:
To make glaze: In small bowl, combine powdered sugar and eggnog. Stir until thoroughly combined. Drizzle over cooled pound cake. Serve with your favorite fresh fruit. Serves 24. (This is even better the second or third day.)
Looking for a good read or a great devotional for the new year? Check these out at Amazon.com
"The Late Sooner's Daughter" is a sequel to the very popular "The Late Sooner." "<a href="http://http://www.amazon.com/
Looking-Deeper-366-Day-Devotional/dp/1500415731/ref=sr_1_1?ie=UTF8&qid=1418751392&sr=8-1&keywords=looking+deeper">Looking Deeper" is an excellent devotional book to set a straight course for the new year.