Easy Truffles
Easy Truffles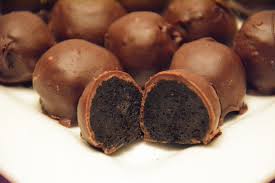 Sometimes I get hungry for just a bite of yum. Here's an easy recipe for one.
Ingredients:
• 16 ounces high-quality chocolate (regular or sugar-free)
• 1 cup heavy cream
• 1-½ tablespoon butter, at room temperature
• 1 ounce liqueur or other flavoring (e.g., Kahlúa, Grand Marnier, vanilla)
Bring cream to a boil, then set aside. Melt the chocolate in a double boiler stirring the entire time until it is just melted. Add the cream in three additions. The chocolate will appear to separate a little, but just keep doing the additions as it will return to silky smooth. Pour the chocolate mixture into the bowl of a food processor, add the butter and emulsify or blend well. (I use a stick blender and am careful not to lift the end out of the chocolate when emulsifying.) Add liqueur, mixing till combined. Let stand at room temperature for 2 hours or overnight. Scoop 2 tablespoon-size balls with a melon baller or two spoons. Hand roll to a round shape, and coat with your favorite topping. Refrigerate truffles until ready to serve, then bring to room temperature for maximum flavor.
Yield: about 25 truffles
In case you're looking for a great devotional book for the new year or a wonderful historical fiction, check them out here in paperback and e-reader.
Looking Deeper at Amazon.com.
I also maintain another blog: godslittlemiraclebook.wordpress.com
I also maintain another blog: godslittlemiraclebook.wordpress.com