Christmas Left-overs
Christmas Left-overs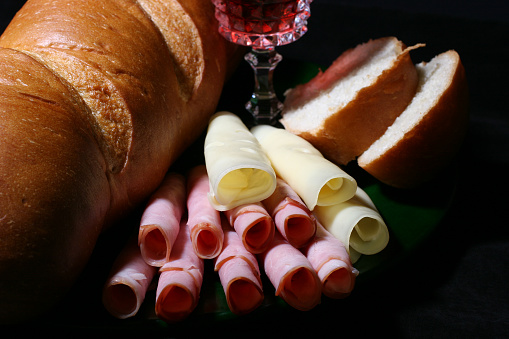 After the celebrations are over and you have some portions of food left, why not take ham slices and make this yummy dish? It's from the Stephenson's Apple Orchard Cookbook. Mine is so stained and dog-eared I can barely read it, but It's a great way to use ham that wasn't eaten at Christmas.
Ham Roulades- From Stephenson's Apple Orchard
Sauce:
2 tablespoons butter
¼ cup flour
¼ teaspoon salt
1 cup hot milk
½ cup grated Swiss cheese (or Mozzarella)


Melt butter over low heat. Stir in flour and salt to make a smooth paste. Remove from heat. Stir in milk gradually until smooth. Add cheese. Stir over low heat to melt. Cool.
Roulades:
½ cup tomato sauce
6 thin slices ready-to-eat ham
¼ cup evaporated milk
½ cup grated Swiss cheese (or Mozzarella)


2 tablespoons butter
Pour tomato sauce into a 10 x 6 x 2 inch baking pan. Roll about 2 spoonsful of cheese sauce in each ham slice. Roll up like a cigar. Put folded side down on tomato sauce. Blend evaporated milk into rest of cheese sauce. Pour over ham. Sprinkle with cheese. Dot with butter. Bake at 350 degrees about 15 minutes, or until hot and bubbly (or you can heat covered in a microwave for about 4 minutes.)