Carryin' the Mail
Carryin' the Mail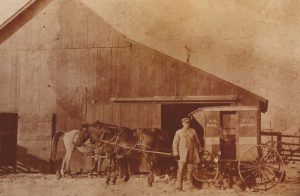 In 1908 my grandfather, George Freeman, became the U.S. rural mail carrier for the Rural Free Delivery (RFD) for Walker, Missouri. He used his own mules and wagon in his service.
During winter in deep snow, it sometimes took him four days to make the circuit of his route. When he came to the end of the day, he stayed the night with a family on the route before he started out again in the morning.
George was born in 1864 in Chenango County, New York and came west to be a railroad engineer in Nebraska before moving to Missouri to carry mail.  He and his first wife married about 1886. She was deaf and died when she was hit crossing the railroad by an express train. They had no children.
When George was 44, he and Nora married. At 46 he became a father for the first time. By his death, he and Nora were the parents to six boys. By the time he retired in 1928, most rural mail carriers used cars to deliver the mail.
In 2006, almost 37 million homes and businesses still received mail by rural mail carriers.
To see my books visit http://www.amazon.com/-/e/B007F5H0H4