Braggin' Rights
Braggin' Rights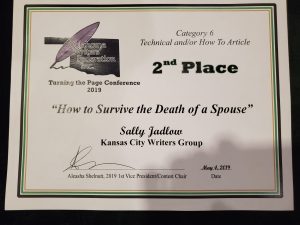 Recently I traveled with three other ladies to Oklahoma City to the Oklahoma Writers Federation Conference.  (OWFI.org.) Competition there is very fierce.
I won second place for my How-to Article entitled, "How to Survive the Death of a Spouse" written from my experiences this past year.
Does anyone have a suggestion where I might send this article?
Anyone who is serious about writing would be wise to attend this conference held each year the first weekend in May.
My latest book, Joshua's Journey: One Boy's Victory Over Allergies is available here on Amazon.com. All my books are available in Kindle and paperback. The Miracle Books are also available in audible.