Black Bean Salsa
Black Bean Salsa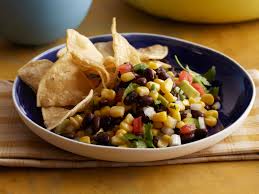 A friend gave me this recipe. Very delicious! I think this is going to be dinner some hot night!
Black Bean Salsa
1 or 2 cans black beans, rinsed and drained
1 can of corn drained
1/3 red pepper, cut fine
1 medium to large Jalapeno pepper (no seeds or spine)
1/3 green pepper
8 green onions
1 bunch cilantro, chopped
3/4 teaspoon garlic powder
2 teaspoon cumin
Pepper to taste
½ cup olive oil
1 tablespoon sugar
5 tablespoons red wine vinegar
Check out my cookbook and other books here.