A couple of weeks ago I had a chance conversation a former neighbor kid, Jeff Johnson, who is now retired. He offered to pull the 51 year old bushes when he visited his mother recently. That set me in motion to do a face lift for the front of the house before hot weather makes it impossible to install a new look before fall.
My two sons, Trey and Josh, along with a grandson, Lou, got to work these last couple of weekends and here is the result. It looks so much better. After the guys built a new retaining wall next to the driveway, we planted Azaleas, Choke berries, Hostas, and some decorative grass. Hopefully with generous gallons of water, we'll not only have a fresh front, we'll also have some berries that taste similar to cherries to make some yummy jelly.
Before                                                                             After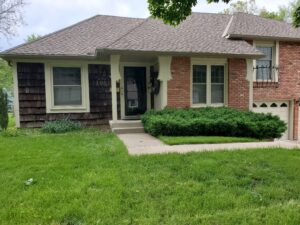 What projects are on your list?
My newest book, The Road Home, an account of my husband's lung cancer and God's faithfulness to widows, is now available in paperback and eReader on Amazon.com. Hard Times in the Heartland and all my books are available here.