Mango Avocado Salsa
Mango Avocado Salsa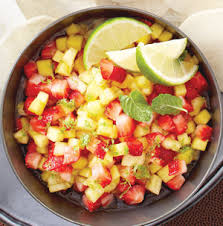 Mango Avocado Salsa
Serves 8
Ingredients:
2 firm but ripe mangos, peeled, pitted and diced
2 firm but ripe avocados, peeled, pitted and diced
2 Tbsp seeded and minced Serrano pepper
1/4 cup diced red onion
1/4 cup diced red bell pepper
2 Tbsp chopped fresh cilantro
Zest and juice of 1 lime
1 tsp chili powder
1 Tbsp extra-virgin olive oil
Directions:
1. Combine mangos, avocados, Serrano pepper, red onion, red bell pepper and cilantro. Whisk together lime zest and juice, chili powder and olive oil. Stir into remaining ingredients.
2. Allow to sit at room temperature for 10 minutes before serving to allow flavors to blend. Serve with chips or on top of fish or chicken.
To see my books visit http://www.amazon.com/-/e/B007F5H0H4
To see my other blog visit https://godslittlemiraclebook.wordpress.com/