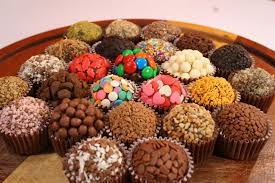 Brigadeiros
1 14 oz. can condensed milk
¼ C. cocoa powder
¼ C. dark chocolate chips
1 t. butter, melted (for rolling into balls)
1/3 C. sprinkles
In a medium microwave-safe bowl, combine condensed milk and cocoa powder. Mix well, and add chocolate chips. Heat the full power of 2 minutes, then remove and stir until smooth. Heat again in 10 minute intervals, always stirring until smooth, until mixture thickens and easily folds away from bowl when scraped with a spatula.
Refrigerate mixture for at least 2 hours, or chill in the freezer for at least 20 minutes.
Using a teaspoon, portion out into rounds and using your hands, shape into 1 ½ inch balls Moisten your palms with melted butter so that the fudge won't stick to your hands.
Dip each ball into the sprinkles or whatever coating you prefer. Keep chilled in an air-tight container until right before serving.
To see my books visit here.
To view my other blog visit here.