Chocolate Chip Pie
Chocolate Chip Pie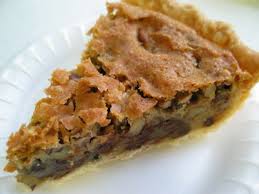 Want to avoid corn syrup? Here is one for you.
Chocolate Chip Pie
2 eggs
½ C. flour
½ C. white sugar
½ C. brown sugar
1 C. butter, melted and cooled
1 C. chocolate chips
1 C. walnuts (I prefer pecans)
Beat eggs. Add flour, and sugars. Beat until well blended. Blend in melted butter. Stir in chips. Put into 9-inch pie shell (unbaked) 325 degrees for about 1 hour. Serve warm with whipped topping.
To see my books visit here.
To view my other blog visit here.