Olive Oil Cake
Olive Oil Cake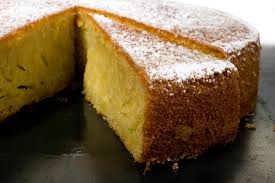 Olive Oil Cake
Ingredients:
2 c all-purpose flour
1 3/4 c sugar
1 1/2 tsp salt
1/2 tsp baking powder
1/2 tsp baking soda
1 1/3 c olive oil
1 1/4 c whole milk
3 large eggs
1/4 c orange juice
1/4 c Grand Marnier
1. Preheat oven to 350 degrees. Grease a 9-inch cake pan with sides that are at least 2 inches deep. Line the bottom of the pan with parchment paper.
2. Sift dry ingredients into a large bowl; whisk to combine. Combine wet ingredients in a medium bowl; whisk to combine. Pour wet mixture into the bowl with the dry, and whisk together until just combined and no lumps are visible.
3. Pour batter into the prepared pan and bake for approximately one hour (rotating the pan after 35 minutes), until the top of the cake is golden and a cake tester comes out clean.
4. Transfer the cake to a rack and cool in the pan for half an hour.
5. Run a knife around the edges of the pan and invert the cake onto a rack to cool completely.
Top with your favorite icing or dust with powdered sugar.
In case you're looking for a great devotional book for the new year or a wonderful historical fiction, check them out here in paperback and e-reader.
Looking Deeper at Amazon.com.

I also maintain another blog: godslittlemiraclebook.wordpress.com