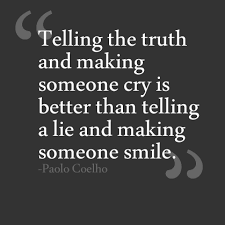 The Truth in Love
The Truth in Love
Jude 3
Beloved, while I was making every effort to write you about our common salvation, I felt the necessity to write to you appealing that you contend earnestly for the faith which was once for all delivered to the saints.
Jude's day is quite similar to ours. Our churches, like his, had people who wanted to be known as Christian, yet they had their own brand of the gospel.
Some people claim, "God is love, therefore, no one will go to hell." Others say, "Homosexuality is acceptable in God's eyes. We will lobby to make marriage between two persons of the same sex legal." Passing a law made by men still makes it wrong in God's eyes. For the sin of homosexuality, God utterly destroyed Sodom and Gomorrah (Genesis 19) for disobeying His very clear laws (Leviticus 20:13).
Still, others mock the idea of Messiah Jesus coming again to judge each person on earth (Jude 14-25). There are those who use the church to pursue their ungodly lusts and grow rich by preaching the gospel.
Like Jude, we must speak in love and contend for the truth of God's word.
Lord Jesus, may we love enough to tell the truth
at all times, in all circumstances,
no matter the consequences.
To see my books visit http://www.amazon.com/-/e/B007F5H0H4
To view my other blog visit https://familyfavoritesfromtheheartland.wordpress.com/